Joseph and Karen McDonie have established a scholarship with the
Marshall University Joan C. Edwards School of Medicine for future medical students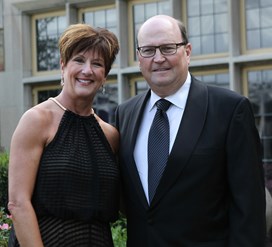 HUNTINGTON, W.Va.--The Joseph K. and Karen P. McDonie Scholarship honors the memory of the couple's late parents—Braxton and June McDonie and Clarence and Jeanne Pratt. Both Joe and Karen McDonie were raised in the Huntington area. He is CEO of Citation Investments Inc., managing member of Beacon Development LLC and a consultant to First Sentry Bank, successor to Rock Branch Community Bank, where he served as president/CEO. He currently serves as secretary on the Marshall University Board of Governors and sits on the board of directors for Fruth Pharmacy Corporation. The couple has two grown children and two granddaughters.
"Karen and I believe in reinvesting in the community so it continues to grow and thrive," said Joe McDonie. "This scholarship helps the School of Medicine, which is an integral part of the Huntington and tri-state communities."
The scholarship is for first-year medical students at Marshall who are residents of Cabell County, West Virginia. The award is renewable for three additional years pending normal academic progress.
"With Joe's banking background, the McDonies understand the value in helping medical students offset their student loan debt through scholarships," said Linda S. Holmes, director of development and alumni affairs for the Marshall University Joan C. Edwards School of Medicine. "It's a long-term 'win' for our community and state if more physicians can pay off their loan debt sooner and afford to practice here."
For more information on the scholarships or to make a gift to the Marshall University Joan C. Edwards School of Medicine, please contact Holmes at 304-691-1711 or go to https://jcesom.marshall.edu/alumni-giving/.