Office of Research and Graduate Education
---
About Us
Graduate Education Programs
Departments
Centers
Core Facilities
Resources
Research Opportunities
Flow Cytometry Core Facility
Vincent E. Sollars, PhD
Flow Cytometry Core Facility Coordinator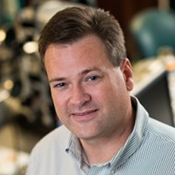 Flow cytometry has improved tremendously since its beginnings in the 1940s. It began with the counting of blood cells in liquid suspension and bacteria in aerosols using light scattering or electrical impedance. Modern flow cytometry uses measurements gained from passing laser light through quickly moving cells in a stream or "flow" of fluid. Using this type of analysis the size and granularity of a cell can be approximated as well as the presence of particular protein molecules through antibodies conjugated to fluorescent molecules. Through this approach, one can analyze both the type of cells present in a sample as well as their frequency. There are many more advanced applications of flow cytometry including cell cycle analysis, chromatin structure, lipid levels, oxidative metabolism, intracellular pH, gene expression, membrane fusion/turnover, surface/intracellular receptors, etc. In addition, through the application of electric fields individual cells can be separated or "sorted" from a heterogeneous mixture based upon the properties of the cells for further experimental manipulation.
We would like to thank the COBRE and WV-INBRE programs for their generous support that made this acquisition possible.
Instrumentation Available
The Joan C. Edwards School of Medicine has acquired a BD Biosciences FACSAria fluorescence activated cell sorter capable of 11 parameter analysis and sort speeds of 87,000 events/second. It is equipped with three lasers and fixed optical alignment. The COBRE and WV-INBRE programs made this acquisition possible. The instrument is available to researchers at Marshall University on a fee basis detailed in our policy statement. The instrument can also be made available to others with an interest under the policies provided here.
Analysis Software Available
We offer ModFit LT v. 3.1 and FlowJo v. 7.6 analysis software tools for use in data analysis.