Office of Research and Graduate Education

---
About Us
Graduate Education Programs
Departments
Centers
Core Facilities
Resources
Research Opportunities
Appalachian Center for Cellular transport in Obesity Related Disorders (ACCORD)
Vision
Our vision is that the Marshall University Joan C. Edwards School of Medicine (MU JCESOM) Center of Biomedical Research Excellence (COBRE) named Appalachian Center for Cellular transport in Obesity Related Disorders (ACCORD) will be a national center of excellence focused on molecular mechanisms of cellular transport abnormalities in obesity-associated health disparities in West Virginia and Central Appalachia (WV/CA).
Project Summary
West Virginia is the only state that is entirely within historically and geographically defined Appalachia. Many of the innumerable health disparities of West Virginia and Central Appalachia have their roots in widespread obesity prevalent in the region. At the epicenter of these disparities, Marshall School of Medicine is well positioned to address these conditions.
There is strong junior investigators interest and senior investigators expertise in obesity-related cellular transport physiology at Marshall School of Medicine. Thus, the overall goal of this new Center of Biomedical Research Excellence (COBRE) application is to promote research training in obesity and related diseases emphasizing cellular transport in the next generation of biomedical investigators and to enhance the necessary infrastructure to accomplish this at Marshall School of Medicine.
The Appalachian Center for Cellular transport in Obesity Related Disorders (ACCORD) will serve as the academic home for this COBRE. ACCORD will leverage existing resources such as the WV IDeA Network of Biomedical Research Excellence (WV-INBRE) , excellent core facilities and new institutional resources to train the junior investigators. All COBRE projects are hypothesis-driven; with each addressing cellular transport in a distinct obesity-driven health complication, and each utilizing innovative experimental approaches (e.g., new polygenic models of obesity and effect of diet). An evaluation driven comprehensive and interactive mentoring plan with outstanding senior investigators that train the junior investigators to become independent scientists.
In order to sustain these many training opportunities while addressing one of the most prevalent diseases, obesity, that is at the heart of many health disparities in WV/CA and all other rural areas of this country, new resources (space, funding and faculty positions) have been committed to ACCORD by the institution. In turn, ACCORD, to enhance institutional obesity related biomedical research capacity, will develop new resources as future cores (e.g., Biostatistics and Study Design Resource), provide pilot funding and promote training of not just junior investigators, but the future generation of investigators (e.g., graduate students, post-doctoral fellows) as well. In summary, this ACCORD COBRE proposal is both innovative and significant. It focuses on a highly significant and extremely timely research problem, obesity and related disease. The novel projects of this COBRE will likely identify new targets that can potentially be modeled as new therapeutics to ameliorate and/or prevent obesity and related complications not only in WV/CA, but across the country.
Administrative Core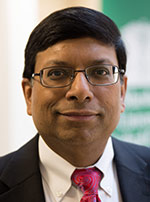 Uma Sundaram, MD
Chairman
Phone: (304) 691-1841
sundaramu@marshall.edu

My training and career to date has ideally positioned me to serve as the Principal Investigator and Program Director of the Center of Biomedical Research Excellence (COBRE) ACCORD. I have demonstrated a commitment to basic, clinical and translational research since my undergraduate training in Bioengineering at Johns Hopkins University during which my research at the National Institutes on Aging led to multiple co-authored publications in blood brain barrier drug entry and distribution modeling. Since graduating from the Medical College of Ohio, completing my residency in internal medicine at the University of Michigan and gastroenterology subspecialty training at Yale University, I have been actively involved in patient care, teaching and research funded by NIH, AGA, AHA, and CCFA. Over the years investigator initiated and multi center prospective clinical studies have been in Hepatitis C, inflammatory bowel disease, peptic ulcer disease and Barrett's esophagus. The basic and translational research has been funded by NIH RO1s and currently an NIH RO1 (DK 67420) to study regulation of glucose and Na homeostasis as it pertain to diseases such as obesity and hypertension. Most recently, I was the Principal Investigator of the newly funded NIGMS IDeA Clinical Translational Research (CTR) U54 grant (1 U54 RR033567-01) at the West Virginia Clinical and Translational Science Institute (WVCTSI).


---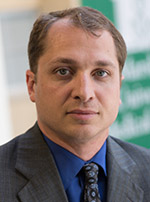 Todd Davies, PhD
Assistant Professor
daviest@marshall.edu

Dr. Davies has a diverse background. He received his Ph.D. in Medical Science from the University of Toledo Medical Center, his B.S. in Biology from Wesley College and his A.A.S. in Aerospace Ground Equipment from the Community College of the Air Force. Dr. Davies also served as the Commissioner of Economic Development for the City of Toledo and led the Bioscience activity of Rocket Ventures Pre-Seed Fund where he assisted in the creation and development of 22 medical technology start-up companies before joining another start-up, ADS Biotechnology, as its CEO.
Dr. Davies specializes in program planning and trial development.
Internal Advisory Committee (IAC)
An Internal Advisory Committee (IAC) has been established with senior leaders from MU JCESOM having the necessary expertise and experience in the success of the ACCORD and the COBRE. In addition to support and oversight of the progress of the COBRE, the IAC will hold quarterly progress meetings, review pilot grant proposals, and provide programmatic recommendations to the COBRE PD/PI. The IAC is also integral to the Evaluation Plan proposed for this COBRE. Emphasizing the importance of this COBRE for the institution, the Dean, Dr. Shapiro will chair the IAC, which will consist of the following individuals:
---
---
---
---
Mentoring Committee
Receipt of this COBRE grant will allow the individual junior investigators the unique opportunity for not only substantial financial support but also focused mentoring opportunities to aid them with the move to independence. Many IDeA institutions lack the senior funded faculty "bench strength." While we have been actively growing this critical mass over the last few years at MU JCESOM, it behooves us to realize, mentoring requires a "village" having a deliberate infrastructure, not just individual mentors. Therefore, we had established a Mentoring Committee (MC) more than a year ago which includes not only individual project mentors, but also senior investigators from across the MU JCESOM with an equally impressive track record of investigation and mentorship. The junior investigators and mentors have been meeting regularly for more than a year to not only conduct review of research projects and grant proposals, but also to discuss career trajectories and pathways, promotion and tenure, time, fiscal and lab management, and networking. The MC is chaired by Dr. Elaine Hardman. In this capacity she will coordinate mentoring for this COBRE proposal. She has had an active and well-funded research laboratory for more than 20 years. As a Senior Faculty member in Biomedical Sciences, she has mentored newer faculty members including Drs. Piyali Dasgupta, Maria Serrat and Travis Salisbury. Drs. Dasgupta and Serrat have obtained NIH R15 funding and all are making good progress toward independence. Participation in ACCORD COBRE will greatly enhance this progress. Along with the MC, Dr. Hardman will coordinate mentoring activities to insure that mentors and junior investigators are meeting regularly and that junior investigators are receiving the expected guidance. She will review mentors' quarterly reports prior to the IAC and EAC meetings and prepare a summary for these committees. She will review attendance at seminars, meetings with visiting professors and meeting presentations to ensure that junior investigators are meeting these obligations as outlined in their quarterly plans. The Mentoring Committee members are (in addition to individual project mentors in table below):
---
---
---
---
---
---
---
---
---
---
Project Investigators
Project 1 - Regulation of sodium dependent bile acid absorption in obesity
Mentor: Dr. Jung Han Kim
---
Project 2 - Oxidative Stress and Impaired Renal Sodium Excretion in Obesity: role of Na/K-ATPase signaling
Mentor: Dr. Gary Rankin
---
Project 3 - Inhibition of Leucine-Stimulated Induction of mTOR1 to Suppress Breast Cancer in Obesity
Mentor: Dr. Uma Sundaram
---
Project 4 - Dysregulated Growth Factor Transport and Accelerated Bone Elongation in Childhood Obesity
Mentor: Dr. Hartmut Malluche
---
Project 5 - Regulation of Tight Junction Molecular Composition by Na/K-ATPase
Mentor: Dr. Zijian Xie